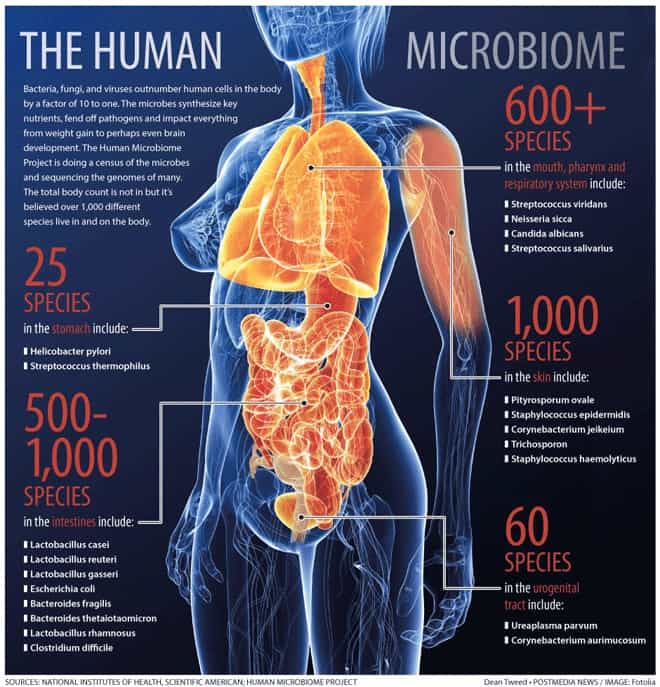 New research shows for the first time that an imbalance in the good and bad bacteria in the gut of old mice causes inflammatory responses in young mice -- responses that are linked to age-related conditions such as stroke, dementia and cardiovascular disease. Therapies that target the bacterial composition of the gut in elderly people, through changes to diet and pre- and probiotic supplements, may lead to a healthier aging population.
Previous research shows that the elderly tend to have a different composition of gut bacteria than younger people. Immune responses also tend to be compromised in the elderly, resulting in inflammaging. Knowing this, Fransen and his team set out to investigate a potential link.
The scientists transferred gut microbiota from old and young conventional mice to young germ-free mice, and analysed immune responses in their spleen, lymph nodes and tissues in the small intestine. They also analysed whole-genome gene expression in the small intestine. All results showed an immune response to bacteria transferred from the old mice but not from the young mice.
The results suggest that an imbalance of the bacterial composition in the gut may be the cause of inflammaging in the elderly. Imbalances, or "dysbiosis" of gut bacteria results in "bad" bacteria being more dominant than "good" bacteria. An overgrowth of bad bacteria can make the lining of the gut become more permeable, allowing toxins to enter the bloodstream where they can travel around the body with various negative effects. Dysbiosis can have serious health implications: several disorders, such as inflammatory bowel disease, obesity, diabetes, cancer, anxiety and autism are already linked to the condition.
Floris Fransen, Adriaan A. van Beek, Theo Borghuis, Sahar El Aidy, Floor Hugenholtz, Christa van der Gaast – de Jongh, Huub F. J. Savelkoul, Marien I. De Jonge, Mark V. Boekschoten, Hauke Smidt, Marijke M. Faas, Paul de Vos. Aged Gut Microbiota Contributes to Systemical Inflammaging after Transfer to Germ-Free Mice. Frontiers in Immunology, 2017; 8 DOI:
10.3389/fimmu.2017.01385
Posted by Dr. Tim Sandle