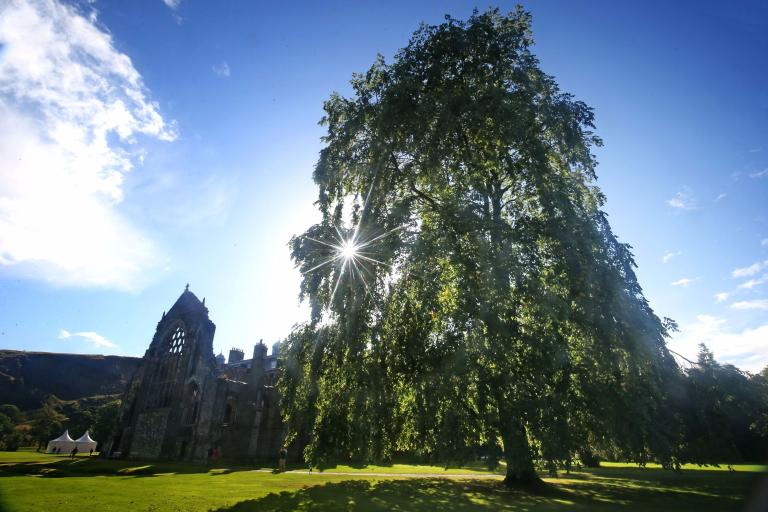 With huge areas of land and many residences Queen Elizabeth II might be forgiven for not knowing the full diversity of flora and fauna. This week botanists report the discovery of rare elms in the royal garden.
Elm trees thought to be extinct in Britain have been discovered
at the Queen's official residence
in Scotland (the Palace of Holyroodhouse, in Edinburgh.) These are two 100 feet tall Wentworth elms (
Ulmus Wentworthii Pendula
.) Holyrood Palace has served as the principal residence of the monarchs since the 16th century, and is a setting for state occasions and official entertaining.
Strangely the trees are conspicuous and well photographed, appearing as a backdrop to many a picture as various dignitaries meet the Queen or another member of Britain's royal family.
The rarity of the tree has only just been discovered, following a survey of the plant life in the garden.
Botanists are hoping to propagate the rare trees and to grow more of the elms in other selected parts of Britain. Discussing this, and the discovery further, Dr. Max Coleman, who works at the Royal Botanic Garden Edinburgh,
explained to the BBC
: "That's the most striking thing about this story. It seems very odd on the face of it that these massive trees, that are probably the most photographed trees in the grounds of the palace, have gone unrecognized until now."
Since the 1970s millions of elm trees have disappeared from the U.K., falling foul to a fungal infection
called Dutch elm disease
. This disease is caused by a member of the sac fungi (
Ascomycota
), and it is spread by a beetle.
According to Science Alert
the disease killed between 25 and 75 million elms across the U.K. over a ten year period.
One area of the U.K. where action was taken to preserve elm trees was in Scotland, and the Edinburgh area has the highest concentration. Despite this, the discovery of the rare Wentworth elms was something of a surprise. The last known tree died in 1996.
The trees have a "weeping" appearance and have large glossy leaves. The tree was originally named for Wentworth Woodhouse, the largest Classical house in Britain in the early twentieth century. The two trees are located on the main lawn to the east of the palace.
Posted by Dr. Tim Sandle